Welcome to Iglou Internet Services, home of quality Internet, network and hosting services for 20 years. IgLou proudly serves the Louisville, Lexington, Frankfort, and surrounding areas in Kentucky.

Interested in becoming one of thousands of satisfied IgLou customers? Contact us by phone at (800) 436-4456 or by email at info@iglou.com.
---
Interested in joining IgLou's team? IgLou is currently hiring!
---
Web Hosting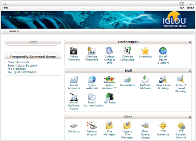 IgLou Web Hosting provides a powerful control panel to manage both your website and your email.

Includes IgLou's famous technical support with prices as low as $9.95/month.



Computer & Network
Repair Services
IgLou's computer and network repair services are available in Louisville for your home or business at extremely affordable rates.
We cover a wide range of services including network troubleshooting, virus eradication, computer upgrades, training and wireless networking.

Can you get
IgLou DSL?
Check if your telephone number qualifies for IgLou DSL service. Enter your phone number with area code below...
Web Hosting
IgLou's Web Hosting offers 1-click installations of Wordpress, Joomla and other popular web software