Web Hosting
Get more from your web hosting company!
As low as $12.95 per month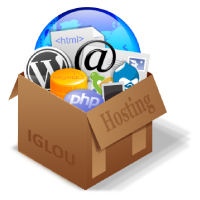 IGLOU Web Hosting offers reliable website and email hosting at extremely competitive rates.
Your website is the life-blood of your online presence.  With IgLou as your partner you'll enjoy great support, rock-solid reliability, and years of experience at hosting the websites for thousands of local businesses.
Your IgLou Hosting account is 100% compatible for WordPress Hosting, a popular choice among web-developers, and also provides one-click automated installations of WordPress, OsCommerce, Drupal, Joomla, and many other open-source software packages.

IgLou can help with the
design and development
of your website, even if you are just looking for a refresh of your existing site.  IgLou also offers Reseller Web Hosting and 
Private Server Web Hosting
 plans for web designers and entrepreneurs managing their own clients that may need the security and performance advantages of a dedicated virtual server.
If you're not sure where to begin, we make it easy. We'll even help you move your existing website to our servers. You can ask questions or order online, or give us a call at (502) 966-3848.
Monthly Rate
Annual Prepay Rate
Disk Storage
Monthly Transfers
cPanel Control Panel
Automatic Backups
CPU Priority
Reseller Control Panel
Private Server
One-Click Installs
SSL Security
Free DV SSL Certificate
Transfer Assistance
# Email Accounts
IMAP Access
Advanced Spam & Virus Email Filtering
Alias Domain Spam Filtering
Domain Aliases
User FTP Accounts
Separate Content Domains
Anonymous FTP
MySQL Databases
PHP 5.2 to 7.4
WordPress, Drupal & Joomla Compatible
Annual Prepay Rate
:
$12.95
# Email Accounts
:
Unlimited
Advanced Spam & Virus Email Filtering
:
1 domain free, $3/domain
Alias Domain Spam Filtering
:
Free
Domain Aliases
:
Unlimited
User FTP Accounts
:
Unlimited
WordPress, Drupal & Joomla Compatible
Annual Prepay Rate
:
$19.95
Monthly Transfers
:
100GB
# Email Accounts
:
Unlimited
Advanced Spam & Virus Email Filtering
:
1 domain free, $3/domain
Alias Domain Spam Filtering
:
Free
Domain Aliases
:
Unlimited
User FTP Accounts
:
Unlimited
Separate Content Domains
:
3
WordPress, Drupal & Joomla Compatible
Annual Prepay Rate
:
$39.95
Monthly Transfers
:
150GB
# Email Accounts
:
Unlimited
Advanced Spam & Virus Email Filtering
:
1 domain free, $2/domain
Alias Domain Spam Filtering
:
Free
Domain Aliases
:
Unlimited
User FTP Accounts
:
Unlimited
Separate Content Domains
:
Unlimited
MySQL Databases
:
Unlimited
WordPress, Drupal & Joomla Compatible
Annual Prepay Rate
:
$99.95
Monthly Transfers
:
250GB
# Email Accounts
:
Unlimited
Advanced Spam & Virus Email Filtering
:
1 domain free, $2/domain
Alias Domain Spam Filtering
:
Free
Domain Aliases
:
Unlimited
User FTP Accounts
:
Unlimited
Separate Content Domains
:
Unlimited
MySQL Databases
:
Unlimited
WordPress, Drupal & Joomla Compatible