Pre-order the new Roku Ultra media streaming player and save $20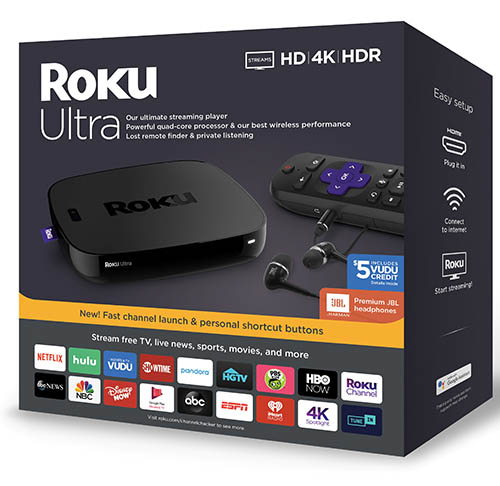 Roku just announced improvements to its lineup in mid-September, and today you can pre-order one of those new and improved devices at a discount! The upgraded Roku Ultra is available at Walmart for $79. That's $20 off what we're regularly going to see it selling for.
Amazon has also been price-matching this pre-order deal, but it is currently sold out there. You'll want to keep checking back at that link if you want to get this from Amazon. The main difference between the two models is Amazon says the Ultra is coming out Oct. 11 compared to Oct. 14 at Walmart. The preset channel buttons are also slightly different. Both have Netflix, Hulu, and Sling, but Amazon's controller has ESPN+ versus Vudu for Walmart.
The other media streaming device Roku has updated this year is the Roku Express. You can currently order it for $26.99 on Amazon. That's about $3 off what it will go for when it's officially released Oct. 11. Compared to the previous generation, the new Express will be 10% smaller but just as powerful. The Express also has the advantage of being able to be powered by your TV so you don't need a spare outlet.
The Roku Ultra is at the top of the Roku lineup, so the improvements are designed around making your life even more convenient. One of those upgrades is the Fast Channel Launch, which improves launch times for the top channels on the platform. You'll also get two personal shortcut buttons on the enhanced remote that you can personalize for one-touch control of where you want to go.
The Ultra supports HD, 4K, and HDR. It includes both dual-band Wi-Fi and an Ethernet port for a stronger connection. The included voice remote has buttons for controlling your TV and media, but it also includes a lost remote finder and a headphone jack for private listening. The device comes with premium JBL headphones for just that very purpose.
You can also use the headphones with your smartphone. Download the free Roku mobile app available on iOS or Android. You'll get access to private listening, voice search, and platform control directly from the phone.
Like any Roku device, you'll be able to use it to access Roku's smart platform with 500,000 movies and TV shows and access to your favorite streaming services like Netflix, Hulu, and HBO Now.
Article from https://www.cordcutters.com/pre-order-new-roku-ultra-media-streaming-player-and-save-20